The Wainwrights
Walking archive -September 2001
Crazy Crinkles
Distance: 9 Miles (approx)
The following is a brief outline of the route, but we recommend the use of a map & compass.
From the car park follow the road to Stool End farm and continue up the farm track, normally you would continue through the farm yard and onto the footpath that follows The Band to the Three Tarns Pass. However there is a diversion inplace around the farmyard so follow the arrow to the footpath.
At the pass follow the path left and climb over the Shelter Crags, continue to follow the path over the next three crinkles to arrive at the highest. From here continue along the ridge and climb down the Bad Step, (face the rock for the easiest decend!). Once you climb over the last Crinkle the path slowly decends towards Red Tarn. At the tarn you can continue the walk up to the top of Pike o' Blisco and from there to the road at the top of the pass and then walk down the road to the car park.
However, our route turns left again on arriving at the tarn and follows the path down to the bridge over Oxendale Beck and back to Stool End farmand the car park.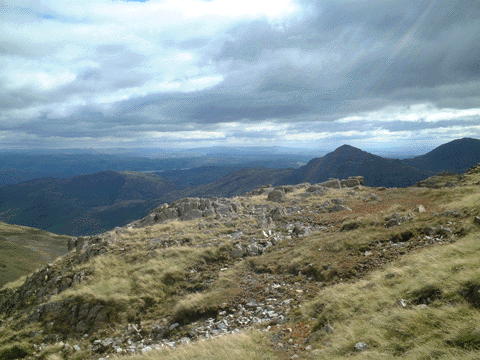 View from Crinkle Crags
Traffic Jam at the Bad Step!!