The Wainwrights
Walking archive -July 2001
Reach the top of England on Scafell Pike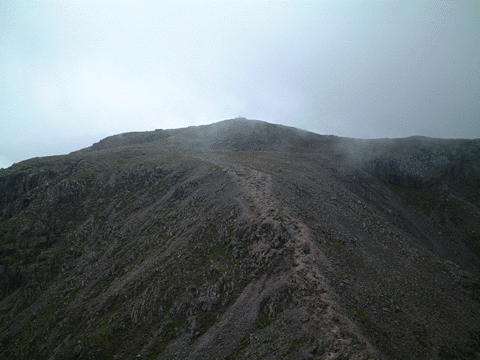 The top of Scafell Pike from Broad Crag
Distance: 11Miles (approx)
The following is a brief outline of the route, but we recommend the use of a map & compass.
From Seathwaite follow the track to Stockley Bridge, on crossing the bridge continue straight up and around the base of Seathwaite Fell ( DO NOT turn left on crossing the bridge up Grains Gill - this is the way down). The path will continue to climb the hillside with Styhead Gill on your right, eventually it levels out and Sty Head Tarn comes into view.
From the stretcher box head in a westerly direction across marshy ground to pick up the Corridor Route near Skew Gill. From here follow the path until it reaches the col between Lingmell and Scafell Pike (there are excellent views of Great Gable along this route - see below)
From the col head left up the stoney slope to the top of Scafell Pike and enjoy the magnificent views.
From the top descend in a North Easterly direction to the col with Broad Crag and climb over the stoney summit of Broad Crag, following the many cairns in the area. Continue to follow the path which falls and climbs again near the summit of Ill Crag, before following the path down to Esk Hause and the shelter.
From here turn left and follow the clear path below Great End's magnificent cliffs until it turns down towards Stockley Bridge and Seathwaite.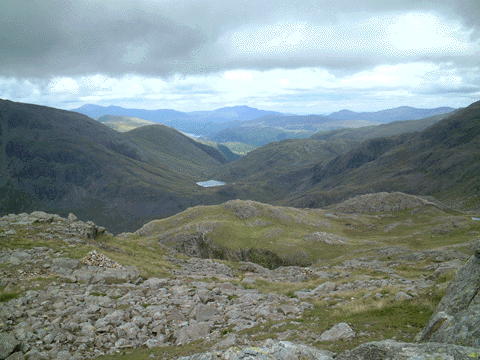 View to Sty Head from the col with Lingmell
Great Gable from the Corridor Route