The Wainwrights
Walking archive -August 2001
Hell on Helvellyn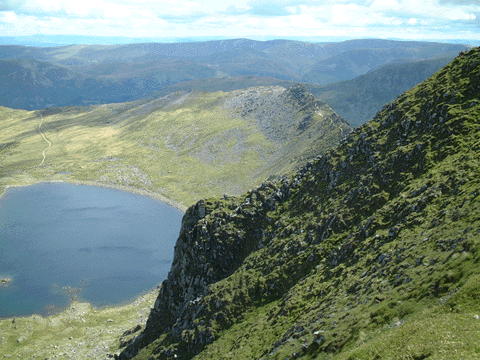 Distance: 8 Miles (approx)
The following is a brief outline of the route, but we recommend the use of a map & compass.
Having mainly climbed Helvellyn from Glenridding we decided that it was about time we tried the ascent from Thirlspot. However although it was an easy climb we would generally recommend that the ascent is completed from Glenridding along either Swirl or Striding Edges, they're far more exciting!!
From the car park at Thirlspot follow the path over the bridge and then ascend the hillside to the top. The path is very clear and needs no further instruction, it is well paved and basically just like climbing your stairs to bed! Well it is if your house is about 3000 feet high or you climb up them 100 times in one go!
Once on the top enjoy the wide views in all directions and espicially downwards towards Red Tarn and Striding Edge.
Leave the top and walk south towards Nethermost Pike, at the cairn take the right-hand fork which leads you down the side of Nethermost Pike. Again this path is clear and can be followed to the woods.
Shortly after entering the woods a sign points you along another permissive path that leads all the way back to the car park, and it's as easy as that!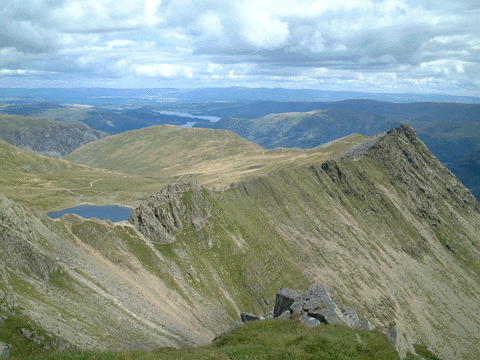 Striding Edge - Very Exciting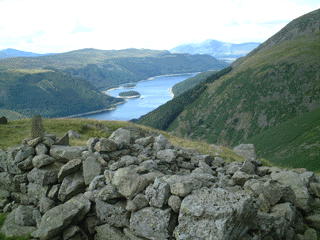 Thirlmere from the side of Nethermost Pike